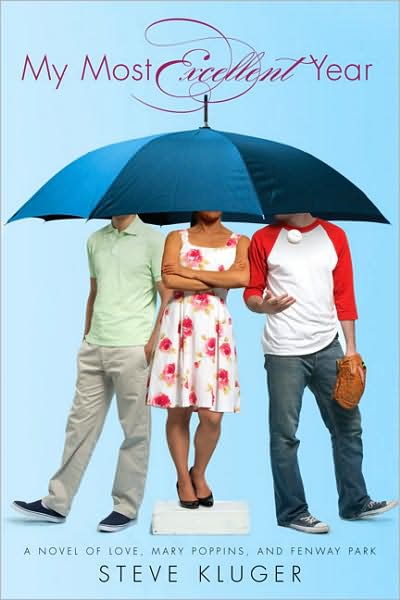 My Most Excellent Year by Steve Kluger
Genre: Young Adult, Romance, Realistic Fiction, LGBT, Humor, Coming of Age
"That was my life until ninth grade, my most excellent year. And then I got drop-kicked by a six-year-old kid and the girl of my dreams."
There are only three great loves in T.C. Keller's life: the Red Sox, his father, and his best friend and unofficial "brother," Augie. But ninth grade is the year when he falls head-over-cleats in love with Al
é Perez. She's pretty, sassy, smart, and a great dancer.

Al

é is so busy playing hard to get that she doesn't realize that she just might be falling head-over-tap shoes for T.C.'s Boston accent, too. Meanwhile, T.C.'s best friend, Augie, is falling in love as well, but with a boy? It may not be so clear to him; but to the rest of his family and friends, it's totally obvious that Augie, who loves musicals and old school screen sirens such as Judy Garland, is head-over-heels in love with Andy Wexler.
Told in alternating perspectives, this is the story of their most excellent year, where these three friends discover themselves, love, and that a little magic and Mary Poppins can go a long way.
Review:
I was leant this book by my best friend, who knows a good book when she reads one. So I didn't have a lot of doubts I would enjoy this. However I did have a few concerns.
The biggest one was that the main characters were nearly four years younger than me- they were high school freshmen. And I tend to find high school freshmen immature and sometimes (often) annoying. Another concern was making Augie, who is gay, a stereotype and not developing him as a character. Lastly, I didn't want a book solely about mushy gushy romance. I'd just come from nearly a year of abstaining from romance novels, though not particularly by choice. However I wasn't ready to jump into the deep end after sitting on the pool side for so long. Since the synopsis only mentions T.C., Augie, and
Al
é
's feelings and romantic agendas, I was surprised by the introduction of several plots that wound into the romance beautifully.
This book was a joy to read, truly. My worries were appeased quickly. All the characters were really well develloped, and even when there were large family gatherings (such as at Thanksgiving), I never got confused over who was who. The three main characters were mature and did not act as I have come to associate 9th graders, especially in respect to caring for Hucky. However this could also be a bad thing, depending on how you look at it. I think that maybe they were a bit too mature for their age. I mean, no 9th grader I know could do what T.C. did with Hucky. (And that's where I'll end that.)
Augie was not stereotypical at all, even though he loved musicals and celebrities and what you think would be an easy stereotype to create. The only downside was I had no idea what he was referring to most of the time as my knowledge of Broadway is basically 0%.
This novel was hilarious, sassy, sad, heartfelt, and all around beautiful. A small piece of my heart will forever belong with T.C., Augie,
Al
é, and Hucky. (And Mary Poppins) I believe that only happens with the best of stories.
"Never, ever stop believing in magic, no matter how old you get. Because if you keep looking long enough and don't give up, sooner or later you're going to find Mary Poppins." -T.C. Keller, My Most Excellent Year
I would 100% recommend this to anyone and everyone.
Other Books By This Author: Steve Kluger has written 8 books, including Last Days of Summer and Almost Like Being in Love. However I have heard that many of his novels are aimed at an older reader than MMEY was. Also, his books tend to have one thing in common- baseball and the Boston Red Sox. Just something to keep in mind.